Housing Charity: Zetetick Roots
#zetetickstory #christmas #housing #supportedliving #inclusion
Where did it all start?
As we approach the festive season it's a good time to look back at Zetetick's roots, as the idea for starting Zetetick was planted over Christmas 2006.  Founder, Gary Scott, has always been committed to community causes and helping those in need.  His discovery of the total lack of social housing for vulnerable people wishing to live within their communities really made him think.
Gary went on to form Zetetick Housing Charity in February 2007 as a response to this fundamental shortage of supported living.  Waiting times had become years rather than months, so something needed to change.
It's all in the name
Pronounced: Zuh – teh – tick
From Ancient Greek through Latin.  Zetetick is a traditional way of spelling Zetetic, which means to pursue knowledge by enquiry.
Proceeding by enquiry showed that people with learning difficulties do want to live independently and that landlords wanted to rent properties to a reliable housing charity working with people with disabilities.
Zetetick Housing Charity is rooted in enquiry.

Grassroots
The charity initially worked with Croydon Council and developed its innovative strategy of procuring housing from the open private rental market, with the requirement that it was both quality and affordable. It was also decided from the outset that Zetetick would follow best practice supported living, whereby the housing and support are provided by different organisations, so if a tenant wants to change their support provider they don't have to lose their home at the same time.
At the beginning Gary was Zetetick's only employee.  He turned his hand to anything and everything; DIY, repairs, leases, accounts, dealing with local authorities, handling housing benefit applications for tenants.  Whatever was needed to ensure the success of the unique service Zetetick offers.
Branching out
Zetetick's specialised service allows total flexibility to source properties that meet the specific needs of tenants.  These can range from one bedroom flats to large houses, subject to referral information and market availability.
The charity now has offices in Croydon, Lewes and St Leonards on Sea, and has properties and tenants across South London and the South East. Zetetick now also works with property developers on new builds and refurbishments.  2019 saw the official opening of Henderson House in Croydon which was transformed from a property in disrepair where films such as Superman were processed to a block of 10 first class, self-contained apartments, allowing tenants to enjoy independent living in a supported environment.
Zetetick looks forward to the charity's further successes and the difference that can be made to the lives of more tenants by providing them with quality homes where they can live the kind of lives that most of us take for granted.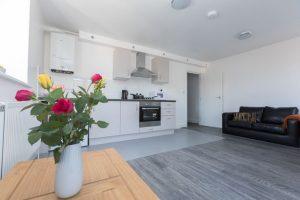 Housing charity – how you can help
If you like the work that Zetetick Housing Charity does, any donation you can spare would be greatly appreciated.  Please head to our Total Giving page.
You can show your support in other ways too! Following us on social media and sharing our message will help so much.
Find us on: