Zetetick Housing – end of year reflection
#zetetickhousing #supportedliving #disabilities #learningdisabilities #autism #pandemic #Covid-19
A difficult year
Covid-19 has had a huge effect on all aspects of our lives, from changing the way we work to separating us from our loved ones. Many people have lost those closest to them, or lost their jobs and businesses. Despite all of this people have come together to help each other, and a spirit of cooperation has been unmistakable. Charities have done amazing work to continue supporting vulnerable people in all aspects of their lives.
At Zetetick we have continued to operate throughout the pandemic, with most admin staff working from home. Our in-house maintenance team worked throughout the first lockdown, carrying out emergency repairs for our tenants, and the rest of the time continuing with their schedule of planned redecoration within the limits of social distancing and working safely with PPE. After a delay caused by the first lockdown we managed to set up Zetetick's new office in Lewes and made it Covid-safe.
Cooperation
In the spirit of cooperation, Zetetick was able to made a donation of £5,000 to the Brighton based charity Possability People to help them continue delivering services to people with disabilities during the pandemic. Zetetick was also able to offer properties to Croydon Council to help them provide emergency accommodation to vulnerable people.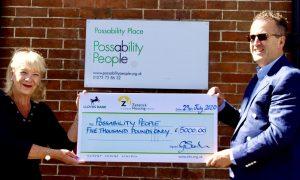 People with disabilities disproportionately affected
For people with disabilities, learning difficulties and autism, Covid-19 has hit particularly hard. The kind of disruption caused by the pandemic can be hugely difficult for some people to cope with and understand, and can cause high levels of anxiety. People with learning disabilities and autism have been disproportionately affected by Covid-19 in terms of illness, and it has exacerbated feelings of loneliness and isolation. Luckily there has one been one case of Covid-19 among Zetetick tenants, and that person is recovering well.
At Zetetick we help and support some of the most vulnerable people in our society who, without our help, would possibly be living a very different life in an institutional hospital without friends, love and a sense of belonging in their local communities. There are still over 2,000 people with a learning disability and/or autism locked up unnecessarily in inpatient units and several reports have been published this year demanding change, the most notable being the CQC's 'Out of Sight – Who Cares?'
https://www.cqc.org.uk/publications/themed-work/rssreview
Zetetick considers itself to be 'life partners to those we support' for their housing needs, and we look forward to supporting more beneficiaries in 2021.
Thank you!
Thank you to everyone who has helped Zetetick deliver more safe and happy homes this year: our partners in local authorities and care providers, landlords, trustees, volunteers and donors.
Wishing you all a safe and happy Christmas and New Year, and let's hope that with the vaccine rollout life will start to get easier in 2021.
Zetetick Christmas recipes
In the meantime if you are looking for a new Christmas recipe try one of these: Christmas Food – Recipes.  Christmas Pudding Recipe | Pressure cooker. Christmas Icecream Recipes | Sounds wrong but tastes so good