Supported living for adults | 2 is better than 1
Supported living for adults
Zetetick Housing Charity specialises in providing quality housing for supported living so that people who have been marginalised by society can live as valued members of their community. Particularly vulnerable adults such as those living with a disability, autism or learning difficulty may require our offer of supported living.
Our mission is to empower our tenants by providing them with a home not a house, where they feel comfortable doing what they enjoy and retain their independence, ensuring they live life to the fullest!
Often the terms 'home' and 'house' are used interchangeably, but the difference is that a home is personal and should feel like it belongs to the individual – an emotional connection Zetetick strive to deliver.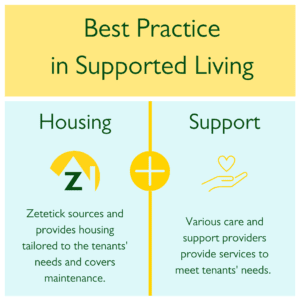 Best practice requires our Care Providers
Supported living is about offering appropriate housing suited to the needs of the individual and support tailored to these needs provided separately by a care provider. To achieve this, Zetetick works in close partnership with Care Provider organisations who offer the desired level of support that fits with each individual tenants' needs.
Separating the providers of housing and support is essential as it gives our tenants more choice over factors such as property type, location and the level of support provided. For example, changing Care Providers would not result in a tenant losing their home. This makes any desired alterations to the service easier and less stressful for the individual.
Person-centric approach
Zetetick's person-centric approach is what makes us successful. We work closely with our tenants to find a home that is perfect for them. We have a variety of property types from the private rental market to suit tenants needs, from one-bedroom flats to large, detached houses.
All our values align
The BEDROCK of our housing charity is our values. We make sure to integrate these values throughout everything we do to ensure the highest quality service that satisfies our tenants.
We only work with Care Providers with the same values as us to ensure we all work towards the same goal. Arundel Care and Venture People, some of our local care providers, are dedicated to supporting individuals whilst respecting their dignity and individuality so they can remain independent. Respect and Dignity is one of our core values.
Our main care partner Frontier in South London adopts the same person-centric approach as Zetetick, to ensure tailored care and support that suits individuals' needs and wishes.
The cost of care 
Most people living with disabilities have limited choice over their living arrangements. Some people rely heavily on family and friends to provide help, just so they have the option to stay living in their own home. Unfortunately this is not a possibility for everyone, in which case paying for social care is necessary.
The cost of social care provided in an individual's home or in residential care is means-tested and not free – an individual's income and savings are considered when determining the cost of care. The NHS does provides medical care that is not means-tested, but this is only available to people with the highest health needs.
Most people struggle to afford social care, and in some scenarios people are forced to sell their homes. At Zetetick we provide value for money in delivering supported living with Care Providers whilst continuing to deliver the highest quality service.
To read about the range of work we have undertaken and our dedicated team, check out our online magazine here.
Getting in touch
Care providers with a new or existing client needing supported living housing for adults with learning difficulties, please don't hesitate to get in touch. We'd love to hear from you!sup
ported living

adults
,
agents
,
autism
,
best practice
,
better
,
care
,
care providers
,
charity
,
community
,
covid-19
,
Croydon
,
difficulties
,
disabilities
,
disability
,
featured
,
for
,
home
,
housing
,
Housing Charity
,
inclusion
,
independent
,
intensive
,
Lambeth
,
learning
,
learning disabilities
,
learning disability
,
letting
,
living
,
management
,
post
,
property
,
quality
,
slider
,
social
,
supported
,
supported housing
,
Supported Living
,
Surrey
,
Sussex
,
tenants
,
than
,
Zetetick
,
Zetetick Housing