Landlords – earn a guaranteed no-fuss income – no problem
Leasing in the current climate
If you lease out property, you might be experiencing challenges during the Covid-19 crisis. You may be struggling with rent payment problems, or with conducting maintenance and cleaning work safely. The changing housing preferences of renters might even mean that you have been left with an empty property and high overhead costs.
"Overall, 54% of landlords said that they have been affected by the virus in some way, experiencing some combination of rent payment problems or unanticipated periods when properties have been empty." (insidehousing.co.uk)
If your property is feeling like a liability, find out how leasing to Zetetick Housing Charity can turn it back into an asset, by delivering a regular income with no vacancies and taking away the responsibility of maintenance.
About Zetetick Housing 
Zetetick Housing is a registered charity specialising in exempt housing provision in South London and the Southern Counties under the specified accommodation clause of the housing legislation. We have been managing housing for nearly 14 years, working alongside care commissioners, local authorities, support providers, estate agents and landlords. Zetetick deliver supported housing homes to vulnerable adults with disabilities, learning difficulties, autism, and mental health issues. Supported living/Supported housing is a scheme where housing, support, and sometimes personal care are provided as an integrated package (find out more here). This enables a greater level of independence and inclusion in the community than residential care. At Zetetick Housing we are life partners for those we support and some of our tenants have been with us ever since our foundation in 2007.    
What's in it for landlords?
Zetetick Housing hold the contract with the landlord, taking the responsibility for paying rent by direct debit each month and covering the cost of utility bills and council tax. There is no contact between landlords and tenants or benefits agencies, making things simple for you. 
We are committed to quality for tenants & landlords. We operate a 3 year rolling programme to paint and decorate the interior of all properties and also provide a full property service including window and carpet cleaning. Our in-house maintenance team look after all properties, using a computer package to administer repairs and ensure that any landlord repairs are reported promptly. We complete 95% of maintenance issues first time within a week. We also provide a garden maintenance service as appropriate.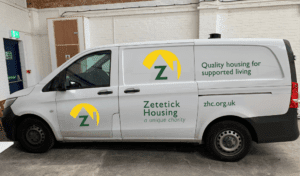 Our service is reliable and transparent, and we can provide references from other landlords and estate agents we work with to back it up. We also invite landlords to inspect their properties with us annually. At the start of every tenancy we take full inventories with photographs, returning the property at the end with all fixtures and fittings back to the original standard. 
Provide a home and change a life
As well as securing your income and alleviating the stresses of managing your property, by working with Zetetick Housing landlords can deliver a positive social impact for the most vulnerable in society. 
The current system means many vulnerable adults with complex needs still live in facilities and isolated from wider society. They may be far away from their families, locked up without the most appropriate support for their needs, and have no choice over how the spend their day. Learn about about the history of housing options for people with learning disabilities here.
Increased social isolation and anxiety, disruption in routine
At Zetetick Housing we believe everyone deserves to live a happy and independent life and people who are disabled, autistic, or have learning difficulties are no exception. Through the provision of supported living homes we empower choice and deliver the dignity that they deserve.
Adults with disabilities and complex needs have had it especially tough this year, as the pandemic brings increased social isolation and anxiety, disruption in routine, and restrictions to their valued independence. Zetetick believes that it is those that society most marginalises that we should show the most care to at this time. What better way to do so than providing a safe and comfortable home. 
We love to hear from landlords so don't hesitate to get in touch if you are interested in working with us and using your property to help others for supported housing and making a difference. Contact page 
#bringthemhomes