Virtual assistants | the fun voice of digital inclusion
Virtual assistants | smart devices and digital inclusion
#fundraising #digitalinclusion #inclusion #newnormal
Those in society who face disadvantages and marginalisation arguably have the most to gain from using the internet. However the digital divide means that they are the least likely to have access to the internet and therefore disadvantages them further.
The coronavirus crisis has exacerbated this inequality as it has been essential to move more and more aspects of daily life online.
At Zetetick Housing we provide high quality supported living homes for adults with learning disabilities and autism. With all of the challenges Zetetick's tenants are contending with during lockdown and the Covid-19 crisis, we are doing everything we can to make life a little easier. We are currently raising funds to buy a virtual assistant for every property. 
The deepening digital divide 
The digital divide is the gulf between those who have access to the internet and technology and those who don't. This in turn leads to inequalities in accessing opportunities, knowledge, and services. There is also a large correlation between digital exclusion and social exclusion.
Disabled people make up a large percentage of people who are digitally excluded, along with older people and those on low incomes. 
https://www.ons.gov.uk/peoplepopulationandcommunity/householdcharacteristics/homeinternetandsocialmediausage/articles/exploringtheuksdigitaldivide/2019-03-04
Barriers to inclusion are not only financial, but in many cases a lack of digital skills, and of assistive technologies and accessibility features. Of all those not using the internet 5% reported that their disability prevented them from doing so (ONS, 2019). 
The digital divide is not new, but has been exacerbated by the Covid-19 crisis as even more activities, information, and essential services have moved exclusively online. Particularly in lockdown, the internet is a lifeline for socialising with friends and family, shopping, and accessing medical services.   
Enter Alexa…
Virtual assistants such as Alexa, Amazon Echo, and Google Home are smart speakers that interact with the user by voice commands. These devices have amazing potential to support people with learning difficulties. autism and disabilities to live independently and be included in a wider digital community. That's why Zetetick are fundraising to buy a virtual assistant for every property through our Smart Money for Smart Homes appeal.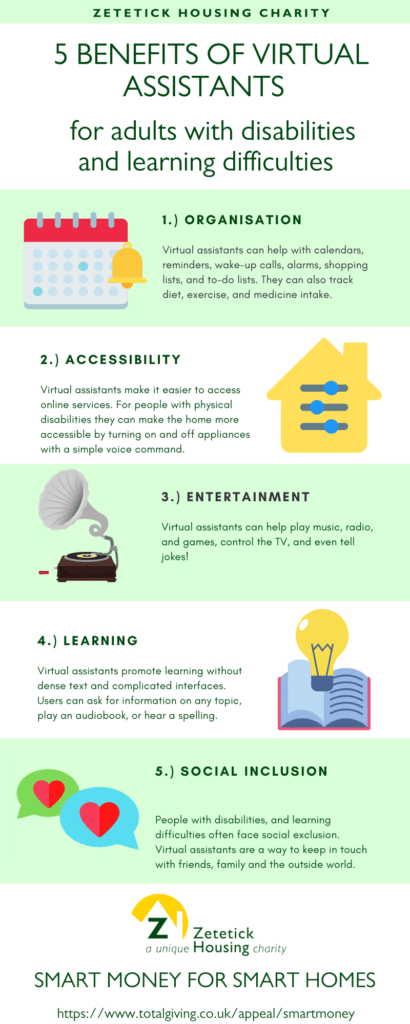 Virtual assistants help to overcome some of the access barriers to digital inclusion. Using voice commands is much more intuitive than navigating complex web interfaces, and spoken replies are more appropriate for some people with cognitive impairments than reading dense text. In addition, those with physical disabilities can gain greater independence by using their virtual assistant to control their environment, for example turning lights and appliances on and off.
Virtual lockdown
During the coronavirus pandemic our tenants are contending with increased uncertainty and disruption to their routines (find out more here). Having a virtual assistant could help them stay organised with appointments and medication reminders, and get updates on the latest restrictions. For those stuck at home over lockdown, their virtual assistant could offer entertainment in their new normal, playing music and audiobooks and controlling the TV.  Many of our tenants love cooking and could use their virtual assistants to find their favourite lockdown banana bread recipe.
A virtual assistant could make people with a disability feel less alone
Disabled people are 27% more likely than non-disabled people to express the view that being online helps them feel less alone (ONS, 2019). Sadly, levels of loneliness are higher than ever due to the pandemic. With a virtual assistant it would be more easy for our tenants to call and message their friends and family and participate in their community. 
Smart supported living
Smart homes enable tenants to take more control over their own lives, and this is what supported living is all about. A Virtual assistant can evolve supported living services, freeing up support staff to carry out more essential and creative activities with service users.
With your help we can improve digital inclusion and quality of life for our tenants. Click here to donate if you can Smart money for smart homes – from £15
Please donate here