SME (small & medium-sized enterprises) charities – are the backbone of UK not for profit work
There are many benefits in dealing with an SME Charity Here are our top 5:
1. Expertise
Rather than larger corporations who offer many different services, An SME Charity focus on the areas in which they have expertise. Zetetick's expertise is in providing high quality supported living accommodation for people with disabilities, learning difficulties and autism, homes that are matched to the needs and preferences of our tenants. Our expertise is also in putting together teams made up of our partners in local authorities, the NHS, care and support providers, landlords and property developers.
2. Response
An SME Charity, while having established procedures, can make decisions more quickly and flexibly than large corporations when it comes to new requirements or situations. Zetetick Housing is a dynamic organisation that can respond quickly and creatively, even more important in these rapidly changing times.
3. Innovation
SME charities might not be able to benefit from huge economies of scale, but they make up for it with their creative and innovative ideas. Zetetick Housing is 'an innovative housing charity, changing lives' as we use all our skills and experience to find new ways to provide homes that our tenants love. We have seen big changes in some of our tenants' lives as a result of having their own home.
4. Staff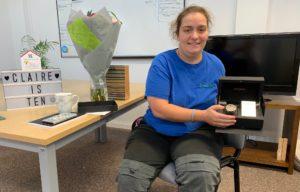 There are many benefits in working or volunteering for an SME Charity. Employees have a wider skillset as they are not simply concentrating on one small aspect of a job as they would in a large organisation. Employees in an SME charity get involved in different aspects of the business. Working as part of a smaller team often brings more collaboration, support and job satisfaction as employees are more able to see the direct results of their efforts. An SME charity is therefore more likely to hold onto good staff and that continuity is better for everyone dealing with the organisation.
5. Relationships
An SME Charity can offer a more personal and quality service because they know the people they deal with and have good relationships with them. Zetetick Housing's administration and in-house maintenance staff know our tenants by name and treat them as individuals rather than as a number on a spreadsheet. Zetetick's partners in local authorities, care providers, landlords and estate agents know the Zetetick staff members they deal with and don't have to address a series of people they have never spoken to before, making everything more efficient.
One of the problems that some an SME Charity can experience is that it can be more difficult to access funding. In the charity sector, the largest charities receive the bulk of the donations. Where only 5% of UK charities turnover more than £500,000, small to medium charities need your support.  Zetetick has four appeals on Total Giving https://www.totalgiving.co.uk/charity/zetetick-housing. If you are able to make a donation it will go directly to our work with tenants.