Learning disabilities | Internet safety 1st – | advice
Protecting People Safely on the Internet
A Safer Internet can be an amazing place to explore, but we need to make sure that we "are" doing this safely. It provides the ability to access and research a wide range of sources of information, but in this day and age we need internet safety and caution and awareness of the dangers for both people and computers, unfortunately, is a necessity. For the vulnerable people Zetetick Housing serve internet safety is an absolute must.
On Safer Internet Day, where we are all encouraged to think about how we use the internet and ensure we and our friends and families are putting internet safety first.
Internet safety means education and protection
To raise awareness, Safer Internet Day can be used to help individuals understand the risks which may be associated with using the Internet. By sharing with all Internet users, some of the safeguards which are available, will help to educate and inform them and keep them safe.  Some advice can be seen here https://www.saferinternetday.org/en-GB/
As a resource, the Internet may provide helpful, educational, and inspiring information.  However, the Internet can also provide exposure to inappropriate topics, images and information that are unsuitable for many, if not all, users.  The world of spam, malware, hacking, phishing and invasion of privacy, are also areas where caution is advised when online. In both work and home environments, it is often desirable to manage the type of websites accessed, thereby preventing exposure to less desirable websites and information that may be found.
Internet safety – while promoting Digital Inclusion
Digital inclusion is all about ensuring that the benefits of the internet and digital technologies are available to everyone, but safely.  This is something Zetetick Housing has been keen to promote and recently piloted with some of our tenants.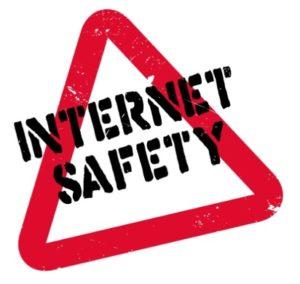 The NHS tells us that digital inclusion covers: digital skills (being able to use digital devices such as computers, smart phones/devices and the internet), connectivity (having the infrastructure to access the internet) and accessibility (services need to be designed to meet all user's needs, including those dependent on assistive technology to access digital services).
Unfortunately, many groups in society (such as those with autism and learning difficulties like Zetetick Housing tenants) are excluded from the benefits of being online and the problem has been exacerbated over the last 24 months, with the pandemic. This has resulted in an even greater need for us to depend on the internet and digital devices even more.
As any computers connected to the Internet are vulnerable to attack from Hackers and Fraudsters, trying to prevent this from occurring is becoming even more challenging.
In addition we should not forget that many seemingly free services are also capturing, farming and selling our data for profit.
There are guides available for families who may want to be made aware of how to protect their children and family when using the internet.  See the attached link here https://saferinternet.org.uk/guide-and-resource/social-media-guides
The right to safe internet access
At Zetetick Housing, we want to ensure our tenants with learning disabilities, who we provide safe, quality housing for, are also provided with the opportunity of accessing online facilities safely, to promote the opportunity of further independent living https://saferinternet.org.uk/
The digital divide has become even more of a problem since Covid-19 pandemic in 2020, as access to technology and the internet became even more important in our every daily lives.
With the inability to see friends and family during lockdown, people with learning disabilities were much more likely to experience feelings of loneliness and isolation before the pandemic. So much of modern life is now conducted online, for example access to health advice and medical appointments, government and local authority services, utilities, support services, job applications, social media – the list goes on.
However, the benefits for people with learning disabilities in particular, show that the benefits disability digital inclusion and of the similar digital devices for people with learning disabilities, are both practical and fun.  This is what Zetetick wish to support and encourage for its tenants, a quality home with a good quality of life.
JS
–
,
–
,
1st
,
advice
,
all
,
autism
,
care
,
charity
,
constructive
,
covid-19
,
crisis
,
difficulties
,
digital
,
disabilities
,
disability
,
featured
,
for
,
HEALTH
,
housing
,
human
,
inclusion
,
internet
,
learning
,
Lewes
,
life
,
living
,
media
,
post
,
quality
,
rights
,
Safeguarding
,
safety
,
slider
,
social
,
supported
,
Surrey
,
Sussex
,
tenants
,
Zetetick