Zetetick | 14 years of fair access to innovative housing
Who are Zetetick housing,  the charity with the Unique model of supported living?
Who are Zetetick Housing? Zetetick housing is a registered charity delivering high quality, all-inclusive housing for supported living since 2007. Our name means 'proceeding by enquiry' in Greek.
Our CEO, Gary Scot, set up Zetetick to increase housing options for people with learning disabilities, and give them fair access to the private rented housing and inclusion in their local communities.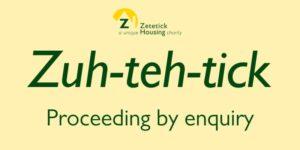 How does supported living work?
When we ask, who are Zetetick housing its important to think about how supported living housing works. Firstly a person with autism, learning disabilities or complex needs is referred to us by a care provider, family member or care commissioner in a local authority.
We then work together with all parties to understand the person's individual needs in terms of support, as well as what they need and would like from their home. For example some people prefer and need to live on their own in a very quiet and peaceful atmosphere, while others like sharing a house with one or two others. There is also the best of both worlds – our Henderson House supported living croydon project where 10 tenants live in self-contained apartments in a redeveloped building but can socialise with their neighbours when they want to.
Find out more about supported living here: https://www.ndti.org.uk/assets/files/Supported_Living_-_Making_the_Move,_May_2010.pdf
Finding a home
Once a referral has been agreed, Zetetick Housing can start searching for an appropriate property. One of the ways in which Zetetick housing charity is unique is that we rent properties from the private rental market. This not only gives us flexibility by allowing us to find a property that suits the specific needs of an individual, instead of trying to make someone fit into an property that we own but that might not suit them, but it also means that we can find something quickly if necessary.
Life partners
Another answer to the question who are Zetetick housing is "life partners". Once we have found a property suitable for the tenant, we can begin the process of getting it ready for them and setting up the appropriate support. Sometimes a new tenant might need a little time to make the transition to supported living, especially if they are coming from an inpatient unit or have never lived away from the family home before. However Zetetick's work does not end there. We aim to be life partners to those we support, so we are delighted that our very first tenant is still living in a Zetetick house 14 years later.
All-inclusive
The service that Zetetick offers our tenants is all-inclusive. As well as sourcing the property Zetetick also manages all aspects of housing related tasks on behalf of the tenant that enables them to maintain their tenancy obligations – jobs that most tenants would be expected to do themselves. Our in-house maintenance team provides additional services such as 24/7 emergency repairs, decorating, window cleaning – even sometimes changing light bulbs. The lease on the property is with Zetetick and we pay all rents and utilities, so when renting to Zetetick landlords benefit from not having worry about losing income for voids between tenancies. Their tenant is Zetetick.
Facilitating teams
As you can see Zetetick Housing's model of best practice, all-inclusive supported living means we work alongside a variety of different people including care commissioners, support workers, social workers, NHS, estate agents, landlords and property developers. We have been doing this for 14 years and one of our strengths is to facilitate bringing all of these people from different specialties together to work towards creating the best possible environment for each individual to thrive in.
Who are Zetetick housing?
We are rightly proud of the work we do and of our story. Many people come asking who are Zetetick housing and our story as well as our work gives the answer. You can read more about it here: Our Story | Zetetick Housing | Supported Living,
We are on a mission to do more, so if you are looking for all-inclusive supported living for a loved one or a client with autism or a learning disability, with an organisation that will look after their housing needs for the long term, get in touch.