Every time we welcome a new tenant into the Zetetick family, by way of introducing them into their new specified accommodation, it is an auspicious moment.
Usually, there will have been weeks, sometimes months, of hard work by the organisation and our partners to find and secure a property that our new tenant likes, and that suits their needs. Zetetick's mission is to empower choice and deliver dignity to those we support and you can read more here.
Zetetick is committed to providing our tenants with the best possible start in their new home – each one will receive a starter pack as well as our brand-new welcome pack for 2023. We can't wait for new tenants to receive them.
New welcome pack for 2023
We are excited to add to our welcome offering this year. In addition to the starter pack, we have put together a little something extra to say thank you to our tenants for choosing us and welcome them into their new supported housing arrangement.  We are pleased to share a sneak peek of some of the items.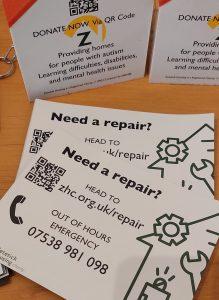 We've included a cosy Zetetick embroidered blanket and torch to help keep warm during the colder months (and in case we ever find ourselves in a black out), as well as an easy read fridge magnet with all our repair contact details. 
We have also been mindful to source products that are sustainable where possible. For instance, the insulated tumbler is 75% PP Plastic and 25% sugarcane bioplastic as well our branded tea towel being made from 80% recycled cotton and manufactured from pre-consumer waste generated by textile factories. We've also included a cotton tote bag for life. You can read more about what we're doing to be a greener charity here.
A big thank you to our suppliers – Vistaprint, The Purple Company and Gopromotional – for great service and high-quality products.
So, we are super proud to announce that these are our new tenant welcome packs for 2023, ready and waiting for each new tenant who joins the Zetetick family. But also…we didn't stop there. Every one of our existing tenants will also receive their own welcome pack very soon, as a gesture of our appreciation and commitment. We hope everyone enjoys them. 
Setting up the essentials
ZHC provide a unique supported housing service. Not only matching a property to a tenants' preferences and needs, but also supplying a tailored starter pack throughout the entire home. Everything from beds to sofas, kitchen utensils and white goods, to make the home comfortable and practical.
Supported housing – find out more
If you'd like to learn more about the work we do, then check out some of our other articles: