Gardeners don't grow on trees – or do they?
Garden

ers don't grow on trees – or do they?
Could you – or your business – be in this picture?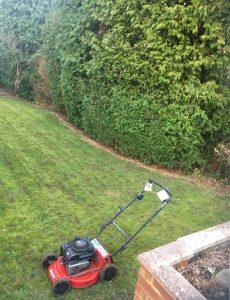 Gardeners and non-gardeners, listen up. We have a number of starter gardens that are looking for corporate or horticulture sponsors.
Gardening makes a great team day. You can visit the garden in advance, work out a clean and tidy up, plan out planting and digging, and decide how best to provide a garden for our tenants (who have learning difficulties or disabilities).
What about a garden for blind people: smells and textures? We can provide a small budget for planting but would love it if you would donate plants as well as time. We are also looking to plant a couple of hundred trees to help the environment, and make them fruit trees so our tenants can be encouraged into the garden.
Garden Tidy Up
January in the garden, according to Monty Don, brings a 'slow unfurling'. The light is beginning to return and the days are gradually becoming longer. Winter is not yet over but there is a sense in the air that spring isn't that far away.
https://www.montydon.com/tips-and-advice/january-2019
Dig deep in one of our gardens
At Zetetick our in-house maintenance team of gardeners have started to tackle the gardens so that our tenants can enjoy them again once the weather improves. Horace, an important member of our gardening team, is very camera-shy but has sent us this photo of a newly mowed lawn he has just finished.
Seeing a lovely, green space that you have worked on is such a satisfying feeling but you have to dig deep – it's a lot of work to keep on top of, especially as things start to grow again.
Our charity is therefore looking for gardener help with a couple of gardening schemes we are running: Adopt a Garden and Plant a Fruit Tree.
Volunteer – get your hands dirty and brighten up a life
We have committed to plant one or two small fruit trees in every garden (where appropriate), and for our Plant a Fruit Tree scheme we are looking for individuals and companies to help us by donating a tree, sponsoring a tree, or volunteering to plant a tree.
For our Adopt a Garden scheme we are looking for gardeners: individuals and companies to help us get our gardens looking great for our tenants. You could be an individual or a group of gardening friends, or a company looking for an idea for a corporate team day or an ongoing team building experience. We need gardeners who can help with garden design, and planting or just donating plants. We will provide the ongoing maintenance.
As a gardener or gardeners you would be supporting our charity and making a real difference to the wellbeing of our tenants.
If you think you could help us get in touch now and get your hands dirty.
For that team away day Call 0800 03 08 009 or email [email protected] and put a smile on someones face by getting your hands dirty.
For Gardeners and in the Garden…Happiness is helping others!
Zetetick Housing is a registered charity specialising in providing exempt accommodation to vulnerable tenants under the specified clauses of housing legislation.