Volunteering websites | the approved, the loved and 1st place
Volunteering websites | but which one?
As a charity, we rely on creating the ability to give. The work we do on social media, the web and in print gives a back drop of information and images to the work we do. You can get to know us and we can get to know you. However, we also rely on other websites, particularly volunteering websites. These sites allow us to connect with people that want to give, of their time and energy, they are not fundraising endeavours.
The volunteering websites help us to connect to an area of donations that we rely on: Volunteers.  As a housing charity, we benefit the most when people give their time and energy as Volunteers. We benefit from Volunteers who primarily come to us as Trustees, or doing social media and gardening. There does not seem to be a one size fits all base to go to.
Where?
In the USA there are 3 main volunteer websites (some of which also cater for the UK) set up just to collate opportunities and people VolunteerMatch.org, Idealist.org, and All for Good.org  they offer a tremendous package of opportunity for Non-profits and people wishing to offer or learn skills. In the UK its not so easy or so obvious.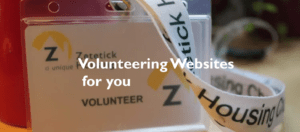 Do you want to volunteer
In our UK search we have found organisations like Reach Volunteering but they tend to specialise in skilled volunteering. Reach is the leading skills-based volunteering charity in the UK. They are the single biggest source of trustees for the voluntary sector in the UK. Connecting people, skills and good causes is their mission and they say their passion. But "skilled" is the operative word here rather than "general" where someone might be an asset but needs to learn.
There are volunteer centres locally, but there didn't appear to be something where the website worked well for everyone whether an organisation needing volunteers or a volunteer wanting to offer their time. You can of course discover a local volunteer centre via the NCVO here
Does the website work?
Normally in 1st place. We have tried Do IT but their new website has teething problems. Do-it presents itself as the UK's national volunteering database, Do-it.org makes it easy for anyone to volunteer in their community, wherevere that community is.
We are trying CharityJob who give free postings for volunteer posts. Charity job beleives in freeing charities from high recruitment costs so they can spend their budget on making a difference and helping charities succeed if they have the right people working for them.  They also run an excellent charity forum community at Charity Connect  Their mission is to help charity professionals who want to be better at their jobs. you can sign up to share knowledge and ideas, ask burning questions, and build meaningful relationships. There are over 20,000 members and its free.
A Match?
In addition, we have now signed up for VolunteerMatch a US organisation we mentioned above who also cater for UK charities, they are worth a look if you are looking for volunteering websites. Their take on volunteer websites believes everyone should have the chance to make a difference. So they try to make it easy for good people and good causes to connect. They are large (this is the US input)  connecting millions of people with places to volunteer and helped tens of thousands of organisations use great volunteers to create real impact.
The purpose of this article is not to promote Zetetick but make more people aware of how they might volunteer or find volunteers. If you run a charity, or community group that depends on volunteers please give the post a like or better still share it with some of your followers. Let's get volunteering and find those volunteer websites.