Supported Living Homes: the best option for Care Providers
How do supported living homes improve the lives of people with learning disabilities?
At Zetetick Housing, we understand that care providers want to support their clients in the best way they can. By working with Zetetick to provide best practice supported living homes for people with learning difficulties or autism, you can do just that.
What is best practice supported living?
Best practice in supported living is where housing and care are provided by separate organisations. This makes it easier for people to make changes to either their housing or support, without having to change both at once. You can read more about why best practice matters here.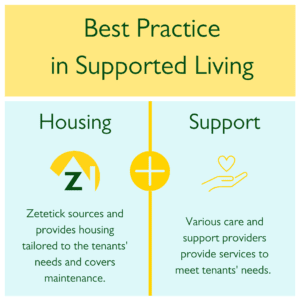 Zetetick is a specialist provider of quality housing for supported living, with a person-centred approach. We work together care commissioners and providers to ensure that each tenant has their housing and support needs met.
A Unique Housing Charity
By making use of the private rental market, Zetetick is able to source properties quickly, finding homes for tenants that suit both their desires and their support needs. Zetetick's intensive housing management means that our tenants with learning disabilities receive extra support to maintain their tenancies – we cover utility costs and take responsibility for rent payments.
This enables our partner care providers to focus on what matters – supporting the tenant.
Benefits of Supported Living Homes
Supported living with Zetetick has many benefits for our tenants, as well as care providers:
Home comforts – With Zetetick's person-centred approach, we work with tenants to find a home that they will love. This provides them with an environment that they can feel comfortable in, and the time and space to enjoy their hobbies and interests.
Security – Zetetick aim to be life partners to those we support. This provides our tenants the security and stability they need to live their lives to the fullest.
Routine – many people with learning disabilities benefit greatly from having structure and routine in their lives. Having a home of their own can be a big help in creating a routine that works for them, for example by deciding on regular mealtimes.
Responsibility – Supported living homes provide our tenants with a sense of responsibility by giving them space of their own to manage and keep tidy. Access to support from care providers and Zetetick's specialised housing support give tenants as much help with this as they need to prevent them feeling overwhelmed.
Community –  Living in a supported living home not only gives Zetetick tenants the space to have friends and family around to visit, but it means that they live within their communities. This makes it easier for them to become active participants in groups and activities within their local area.
With Zetetick's supported living homes, our tenants can live happy, independent lives in a stable home within their community that is comfortable and suits their needs.
Why does supported living matter?
Despite the fact that supported living has been recognised as the best option for people with learning difficulties and autism, for example in the CQC's report 'Out of sight – who cares?', many still live in inpatient care facilities, where practices such as restraint and seclusion are still commonly used.
Care providers work hard to support their clients regardless of where they live, and the majority of people with disabilities are well looked-after in inpatient care. However, even the very best support on a hospital ward is no replacement for living in a home of your own, with security and independence.
How you can help
This is why Zetetick is looking to expand our work – the more people we can provide supported living homes for, the fewer there will be living unhappy lives in hospitals. By sharing our posts and articles on social media, you can help us reach the people who need us!
If you are a care provider and are interested in working with us, don't hesitate to get in contact.